UK National Brass Band Finals – 4th section, 19th September 2021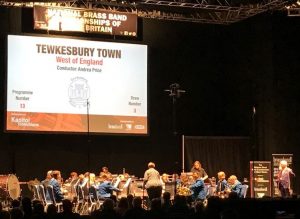 After finishing 3rd in the regional brass band competition held in Torquay in March 2020, Tewkesbury Town Band were invited to take part in the National Finals held at Cheltenham racecourse. Here, 14 of the U.K.s top 4th section bands would battle it out to see who would come out on top and take the National Trophy.
Unfortunately, our musical Director, Andrea Price, who had to leave us after only 18 months due to work resettlement in Manchester, however agreed to take us to Cheltenham as a final farewell. (Andreas first performance conducting the Band was at Torquay, and due to Covid, her second and final performance was at the national finals in Cheltenham!)
With Andrea now living in Manchester, rehearsals were crammed into several back to back evenings and weekend afternoons, when Andrea could make the trip down.
After great anticipation, we drew 3rd in the playing order, and we headed off to Cheltenham after our final 7.30am start rehearsal in Beckford Village Hall.
On stage, nerves held out, and a great performance from the band resulted in 8th place, far better than we had dared hope for.
Special thanks go to Andrea for the huge effort she put in to travelling to the rehearsals, and also to her expertise in her interpretation of the music, and ability to squeeze the very best performance from the band.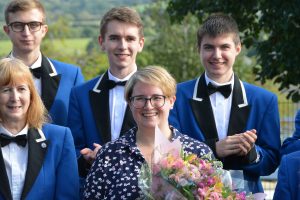 Congratulations to all involved, as this was only the second trip to the finals in the band's history, and 22 years since the last.