Tewkesbury Town Band launches a new season of Bands in the Park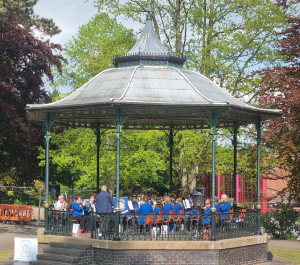 The band kicked off with The Liberty Bell (AKA Monty Pythons theme tune) to open a new season of Bands in the Park 2022, at the Priory Park, Great Malvern.
Forced to cancel the 2020 and 2021 seasons, the Sunday afternoon event was well attended by a crowd, who spanned the generations. And the set included music for all the generations too: a medley of Lionel Bart tunes from Oliver, a sprinkle of Beatles Songs, Thank Your For The Music from Abba, the traditional D'ye Ken John Peel.
There were a couple of fine solos from two up-and-coming, band members and the trombone section entertained, in only the way that the trombones can.
The sun shone, children played, adults relaxed and ice cream was consumed.
---
Tewkesbury Town Band has a new Musical Director – Mr Aidan Howgate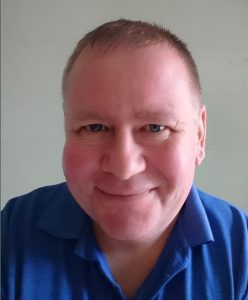 Aidan Howgate was born in Bristol. At the age of 10 his family moved to New Mills, Derbyshire and Aidan joined his brother and sister playing with the New Mills Band, reputed to be the oldest brass band in the county.
Following spells on trombone and baritone, Aidan settled on Eb bass, becoming a soloist in concerts with local bands. At 19, Aidan joined the Fodens band in Sandbach. He took up conducting a local junior group at this time and in 1991 returned to New Mills band as conductor. Whilst there, he built the band up to a full complement of players and enjoyed a successful spell there.
By this time, Aidan's playing took him to the BT Band, where he remained for over 20 years, before a productive spell with the Fairey Band. Aidan graduated with first class honours in Music from the University of Salford and over the years has guested with Grimethope, Brighouse & Rastrick, and Leyland Vehicles bands on many occasions.
A brass musical instrumental teacher by profession, Aidan enjoys church photography using traditional film cameras as well as digital.
Aidan moved to Tewkesbury just before the first Covid-19 lockdown and has now settled in the area. He hopes for a long and successful association with Tewkesbury Town Band and will continue to strive to make the band the best it can be.
Welcome Aidan.
---
UK National Brass Band Finals – 4th section, 19th September 2021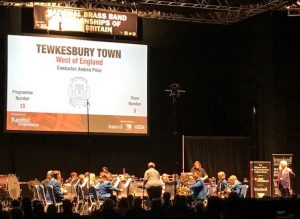 After finishing 3rd in the regional brass band competition held in Torquay in March 2020, Tewkesbury Town Band were invited to take part in the National Finals held at Cheltenham racecourse. Here, 14 of the U.K.s top 4th section bands would battle it out to see who would come out on top and take the National Trophy.
Unfortunately, our musical Director, Andrea Price, who had to leave us after only 18 months due to work resettlement in Manchester, however agreed to take us to Cheltenham as a final farewell. (Andreas first performance conducting the Band was at Torquay, and due to Covid, her second and final performance was at the national finals in Cheltenham!)
With Andrea now living in Manchester, rehearsals were crammed into several back to back evenings and weekend afternoons, when Andrea could make the trip down.
After great anticipation, we drew 3rd in the playing order, and we headed off to Cheltenham after our final 7.30am start rehearsal in Beckford Village Hall.
On stage, nerves held out, and a great performance from the band resulted in 8th place, far better than we had dared hope for.
Special thanks go to Andrea for the huge effort she put in to travelling to the rehearsals, and also to her expertise in her interpretation of the music, and ability to squeeze the very best performance from the band.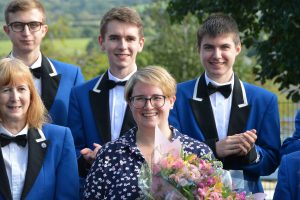 Congratulations to all involved, as this was only the second trip to the finals in the band's history, and 22 years since the last.