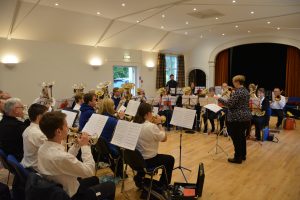 Based in the centre of Tewkesbury, we are a 4th Section brass band, at the northernmost point of the West of England Brass Band area.
The band can be seen throughout the year, playing in the town and local area.
Regular events include beer festivals, bandstands, private functions, marches through the town, tea and Christmas concerts, and carolling.
Perhaps you would like to support the band?
The Fund Raising page has details on how you can help our band.
You can even fund our band by simply shopping on-line and it won't cost you a penny!
Please explore our website and contact the secretary if you would like to book the band for a function, or to become a member!