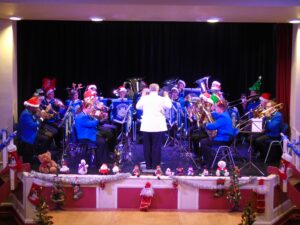 Based in the centre of Tewkesbury, we are a 4th Section brass band, at the northernmost point of the West of England Brass Band area. The band can be seen throughout the year, playing in the town and local area. Regular events include beer festivals, bandstands, private functions, marches throughout the town, tea and Christmas concerts, and carolling.
Please view our pages, and contact the secretary if you would like to book the band for a function, or to become a member.
*** Please view our Come and Join Us page for details of current vacancies including Musical Director ***
---
Due to the current situation with the Covid 19 pandemic, Tewkesbury Town Band would like to inform its members and supporters, as well as the general public, that the 2020 Annual General Meeting has been postponed.
We anticipate being able to hold the meeting in the autumn, though this will be subject to government guidelines being acceptable, otherwise cancellation until next year may be the case.
Thank you for your understanding and continued support.
Tewkesbury Town Band committee.